Tomato Memoirs
<![if !vml]>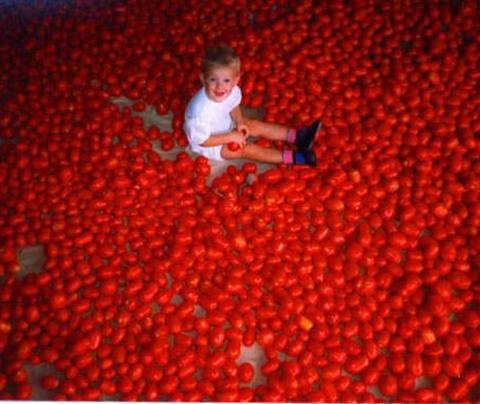 <![endif]>
For some people, early September is tomato season, not just the time for harvesting a fruit once believed to be poisonous, but those two weeks of the year when garage doors in our ghettos are slightly ajar as propane quietly burns indoors.
While most garages store cars, junk and dust, many Italian Canadians' garages bustle with activity around Labour Day. Hundreds of jars of tomatoes are being preserved.
It was Mario at work who got me thinking about pommodore or "golden apples" if you translate the Latin-Italian combo directly. On the previous night, he had just bought four bushels for his 84 year-old mother, and when he arrived with the goods from the market, her eyes were alit. In the words of his wife, a modern Italian who sins by using store-bought sauce in the winter, the old woman's expression was orgasmic.
For senior citizens, Canadian winters are cruel, taking their toll as more people die in the snowy months than during any other season. Tomato sauce to a traditionalist must unconsciously be a symbol of hope. One hundred fifty jars stored in the cantina act like a companion, promising to pull the aged through another counted year of life. Sauce is the colour of blood, and like life itself, it can be sweet and aromatic.
When we were children, tomato-time was a community effort. Someone inevitably had a pickup that would be driven off the island, either to the farms of Laval or to those of the South Shore. Additional cars would follow, filled with child labourers, kin and neighbours for extra tomato-picking support.
The tomato farmer whose fields were about to be invaded was typically not Italian, thinner than most of us, and especially apprehensive, having heard stories from his neighbours who had seen similar hillbillies ravaging through their fields like locusts (mind you, cute and pudgy ones) and overpacking bushels to double the sane density.
After driving the treasure home, we laid the fruit out on old blankets to let it ripen. For an entire week the house smelled of tomatoes, the aroma intensifying if rookies had mistakenly picked bruised or rotten samples.
The next weekend, the home with the widest garage was chosen, a makeshift table was set up and tasks were assigned. It was a division of labour that was the envy of efficient industrialists; there were washers who recycled Unico, Kraft and Pisa glassware for bottling, cutters, grinders, bottlers who slipped in a leaf of garden-fresh basil and strong-wristed cappers.
My favorite part was the actual cooking stage. Old oil barrels were taken to the fields, where our parents placed the containers on leftover construction blocks. Sauce jars were wrapped in old rags; the nearest neighbour's hose would be dragged out to fill each barrel with water. At night, while crickets chirped away, and when uninvolved neighbours least suspected it, the fires were lit. We played hide-and-seek for hours in spite of the darkness, knowing that our parents would not retreat into their homes until the sauce had been preserved.