[<<previous | 1 | 2 | 3 | 4 | 5 | 6 | next >>]
CBC MARKETPLACE: HEALTH » CANCER
Consumer tips: Carcinogens to watch for
Broadcast: March 5, 2006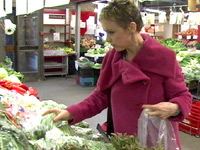 One of the most important things you can do is pay close attention to what you're exposing yourself to when you bring products into your home.
While the Canadian cancer conundrum may seem desperate, there are some steps we as consumers can take to limit our personal exposure to possible and known human carcinogens.
One of the most important things you can do is pay close attention to what you're exposing yourself to when you bring products into your home.
That's something activist Mae Burrows, executive director of the Labour Environmental Alliance Society, has been fighting to make easier for all consumers.
For nearly two years, Burrows has been working on a committee with government and product makers to negotiate for warning labels about carcinogens on products.
"What we're saying to industry is that we know you can reformulate your products without these carcinogens in it," she says. "Just do it. Get ahead of the wave. You can make changes and you can still make a buck."
In the meantime, Burrows would like companies to at least inform consumers when their products contain a possible human carcinogen.
Her campaign has met some hefty resistance. For one thing, companies argue that including such information might just confuse people unless a carcinogen's risk is absolutely proven.
Companies take the attitude that a chemical is innocent until proven guilty, says Burrows. But that's simply not good enough for her:
"You get cancer by being exposed to this whole range of chemicals, often at critical periods of your development, and over a long period of time.
WHAT IS A CARCINOGEN?
A carcinogen is a chemical known or believed to cause cancer in humans. The number of proven carcinogens is comparatively small, but many more chemicals are suspected to be carcinogenic.
"When people start to understand that, we'll start banning carcinogens and they should be banned in every product. There's no excuse for them."
Burrows and the Labour Environmental Alliance Society have published a list they call the CancerSmart Consumer Guide. It tracks products that contain potentially cancer-causing ingredients.
"We write the product name," says Burrows. "We write if it has a carcinogen in it, what that carcinogen is, according to what source and then what are the alternatives."
CARCINOGENS TO WATCH FOR
In the garden
In cleaning products:
| | | | |
| --- | --- | --- | --- |
| Ingredient | Primary use | Source | Alternatives |
| | Found in some abrasive cleaners, brass cleaners | | Look for products that don't contain this ingredient. |
| | Found in laundry detergents | International Agency for Research on Cancer (as a possible human carcinogen) | Look for products that don't contain this ingredient. |
See Marketplace's story Household Cleaners: A Toxic Brew for more on toxins found in cleaning products.
In food and drink:
The International Agency for Research on Cancer (World Health Organization) classifies alcoholic beverages as carcinogenic to humans. For more on the potential negative impact of drinking, see Marketplace's story, Spin the Bottle.
As for food, from 1994 – 1998, the Canadian Food Inspection Agency tested samples of a variety of meat, produce and dairy products for the presence of pesticides. The results were released to the public in 2002 and showed significant amounts of contamination from dozens of pesticides including carcinogens such as captan, chlorothalonil and benomyl.
While such contaminants are largely invisible to consumers, there are some choices you can make at the supermarket to lower your exposure to contaminants.
In its CancerSmart Consumer Guide, Mae Burrow's Labour Environmental Alliance Society lists the 15 most likely contaminated and the 15 least likely contaminated fruits and vegetables, based on data from the CFIA's 1994-1998 tests:
15 MOST CONTAMINATED

Apples

Celery

Cherries

Grapes

Grapefruit

Lettuce (leaf)

Lettuce (head)

Nectarines

Oranges

Peaches

Pears

Potatoes

Snow peas

Spinach

Strawberries
15 LEAST CONTAMINATED

Artichokes

Asparagus

Avocados

Beets

Corn

Cranberries

Eggplant

Endive

Leeks

Onions

Papaya

Parsnips

Pineapple

Squash

Zucchini
Burrows' group also recommends that consumers inform themselves about the following carcinogens that have been gaining attention in recent food research:
Ingredient
Information

Acrylamide

See Marketplace's story on acrylamide for more.

Produced when certain foods (particularly high-starch foods such as french fries or potato chips) are cooked at temperatures over 120 degrees Celsius.

Chemical compounds formed by the reaction of amines and amino acids with nitrite (used as a preservative in cured meats).

Polychlorinated biphenyls (PCBs)
PCBs bio-accumulate in the fat of humans and animals, including fish.
In personal products (cosmetics, hair care, etc.)
Note: Currently, manufacturers are not required to list ingredients on personal care products in Canada. That is scheduled to change in November 2006, when new labelling regulations take effect.
See Marketplace's story Cosmetics and the cancer connection for more.
Further reading:
Pollution Watch lists chemicals tracked by Environment Canada's National Pollutant Release Inventory (NPRI) and documents their health effects, including those that are carcinogenic.
The Guide to Less Toxic Products was developed by the Environmental Health Association of Nova Scotia to provide information about potential health risks of commonly used products, and provide suggestions for alternatives.
Scorecard provides detailed information on more than 11,200 chemicals, including recognized and suspected carcinogens.
Known and Suspected Carcinogens is a list compiled by the Physical and Theoretical Chemistry Laboratory at Oxford University.
Known and Probable Carcinogens from the American Cancer Society.
Occupational Carcinogen List from the U.S. National Institute of Occupational Safety and Health.
Carcinogens Lists compiled by the Brookhaven National Laboratory (U.S. Department of Energy).