School and Community Services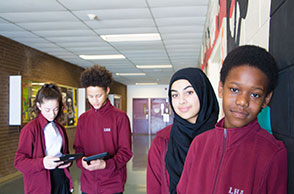 Services for students and their families
Services to Students
Provided by the school

Cafeteria
The Cafeteria is available to students at recess and during lunch hour to provide nutritionally balanced snacks and meals. Students may bring their own lunches to school. All eating and drinking is restricted to the cafeteria area only. No food is permitted in the classrooms or halls at any time.

Senior Homework Program
This program is offered free of charge to students. Admission is based on teacher referrals and is in addition to the remediation sessions offered by teachers.

Junior Homework Program
The junior campus after school homework program is a free service offered to all Junior Campus students. Students are expected to attend regularly.  The program runs from Monday to Wednesday from 3:15 to 4:15. The program is staffed by teachers, tutors, and resource team members.
OBJECTIVE
Provide additional academic assistance to students who need it, with a focus on those students who are a part of the Resource Team's domain.  
Provide a quiet and structured environment for learning, remediation, test completion and homework.
Ensure quality tutors are hired and utilized throughout the year for the benefit of every learning style and curriculum requirement.  IE. Math specialist, French specialist, etc.
A good learning environment is crucial to the success of the students in the program. Therefore, any disruptive student will be removed from the program.

Guidance
LaurenHill Academy has one full-time Guidance Counsellor on the Junior Campus and one full-time as well as one part-time Guidance Counsellor on the Senior Campus. The Guidance Counsellors are available to provide educational, vocational and personal counselling services for all students.
The Guidance Counsellors can be reached at the school phone number, or by e-mail, as follows:

The Oasis (Spiritual Animator)
The word "Oasis" is a place to give the entire school community support, quiet, relaxing times and calls to reach out to help others.
Chinese New Year, Spirituality of Sexuality, St Valentine's Day, Festival of Lights, Remembrance Day, Wheel of Fortune (Outreach to street people and poor families), "Spirit of Giving" and "Tea for Toys", Meditation, Values, the 7 major faiths, Global warming, Armenian Genocide and Chess tournaments are just some of the topics, activities and outreach which are animated by the Spiritual Community Animator each year.

Library
The school's libraries have extensive collections of books, reference collections and current periodicals in both French and English. They are open to students before and after school as well as during the lunch hour. A photocopy machine is available for students.
Provided by the C.S.S.S. or Other

School Nurse
A school nurse is available to the students to provide information regarding health matters and to deal with serious health problems. The school is not responsible for accidents. It is essential that parents inform the school in writing of any medical problems that might affect your child's participation in school life.

Social worker
Through individual, family or group counselling, the school social worker can focus on issues that affect an adolescent's well-being, behaviour and academic performance. This could include such issues as mourning the loss of a loved one, interpersonal conflicts, family communication and child protection. LaurenHill's social worker is an employee of the CLSC St. Laurent (Ms. Lissa Poggi) and can be reached by email at Lissa.Poggi.cnmtl@ssss.gouv.qc.ca or by phone at 514-748-6400 ext.5173628.

OPUS CARDS (REDUCED BUS/METRO FARE)
The OPUS Card will be made available, price to be determined, to students who require them. ID pictures are taken at the school each year for students.
External Websites
C.S.S.S
Mental Health and Social Services