Directly from http://nobelprize.org/chemistry/laureates/2004/press.html
Aaron Ciechanover, Avram Hershko and Irwin Rose have brought us to realise that the cell functions as a highly-efficient checking station where proteins are built up and broken down at a furious rate. The degradation is not indiscriminate but takes place through a process that is controlled in detail so that the proteins to be broken down at any given moment are given a molecular label, a 'kiss of death', to be dramatic. The labelled proteins are then fed into the cells' "waste disposers", the so called proteasomes, where they are chopped into small pieces and destroyed.
The label consists of a molecule called ubiquitin.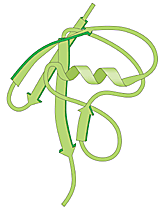 This fastens to the protein to be destroyed, accompanies it to the proteasome where it is recognised as the key in a lock, and signals that a protein is on the way for disassembly. Shortly before the protein is squeezed into the proteasome, its ubiquitin label is disconnected for re-use.