Homework Page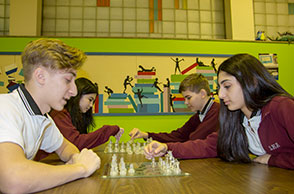 oh no not more homework!
Yes, you have to do your homework, but we'll make it easier for you with these helpful resources, downloads and teacher websites.
Teacher Websites
homework websites and assignment calendars

Math Help Services allows teachers to seamlessly differentiate materials to every student in the class. A teacher can assign lessons to a student to help fill gaps in their learning or to achieve a deeper conceptual understanding of a topic to a group of students.

Schoology is a learning management system that connects all students to see content posted by teachers, one's grades, and many more systems that are useful to the classroom.

Google Classroom
Google Classroom is a free web service developed by Google for schools that aims to simplify creating, distributing and grading assignments in a paperless way.

assign-a-day
Search for your teacher to find the assignment calendar of your class.
Student Bulletin

General Information

General Information
Uploaded: 2021-02-10

General Information
Uploaded: 2020-08-06

General Information
Uploaded: 2020-09-03

Homework Program
Monday to Wednesday from 3:15 to 4:15.
The junior campus after school homework program is a free service offered to all students. Students are expected to attend regularly. The program is staffed by teachers, tutors, and resource team members.
OBJECTIVE
Provide additional academic assistance to students who need it, with a focus on those students who are a part of the Resource Team's domain.  
Provide a quiet and structured environment for learning, remediation, test completion and homework.
Ensure quality tutors are hired and utilized throughout the year for the benefit of every learning style and curriculum requirement.  IE. Math specialist, French specialist, etc.
A good learning environment is crucial to the success of the students in the program. Therefore, any disruptive student will be removed from the program.
External Websites
Academic Help
Homework Websites
Rules Reminder